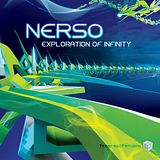 Artist:
Nerso
Title:
Exploration of Infinity
Label: TesseracT Studio
Date: May, 2011
1. Jungle of sounds (with
Iva
)
2. Electrify
3. Dune (with
Sideform
)
4. Synapse
5. Borderland
6. Vertigo (with
E-Clip
)
7. Crystal
8. Deep blue (with
Middle Mode
)
9. Quirky
If you have been reading my reviews then you know how impressed I have been with TesseracT Studio. This label continues to produce quality progressive trance music with one release after the next.
Nerso
is the Dragon aka Dragan Matić and he composes some of the most expansive and lush music I have heard in this genre. It's full of effects and beautiful melodies that catapult you deep into the world he is creating. Although he has released lots of stuff, this is his debut album as a solo artist.
And what a release it is. Superbly deep and complex with a dark shimmer all over it. This is what happens when progressive crashes headlong into psytrance with an artist that knows how to develop atmosphere. It churns, bubbles, ripples...hell there are even some forest textures that scream across the Scandinavian night. Whether it is the insistent march of the massive opening track
Jungle of Sounds
or the growling 303 in
Dune
this disc has it all.
Synapse
drifts as if it were a roller coaster along the brains pathways and Borderland rumbles across the barren terrain. Burning brightest is the collaboration with
E-clip
with it's descriptive sounds and thundering rhythms. But really the whole disc is like this. While every track is great listening all the way through is the way to go.
Along with
E-Clip's
Shuma
Vertex
Ocean
, and
The Riddler
Questions
this is the best progressive release I have ever heard. Rich in details and atmosphere Dragan has delivered a modern day masterpiece. If you like progressive trance please support this artist and buy his disc. Phenomenal.
Psyshop
Beatspace
GoaStore
Mdk