I thought I'd properly introduce this here.

DrKrake vs Jellyfish is a project from a good friend of mine and myself. We started remixing some video game themes around 2009, no fixed genre, just or fun. Some tracks we uploaded on YouTube and Newgrounds and a bunch of people seemed to like it very much. However, since it was a "just for fun" project, our activity was low and very irregular. This year, as a Christmas present to the world, we decided to round up everything we produced in a free, almost full-length album of 33 tracks (many are very short). So here you go!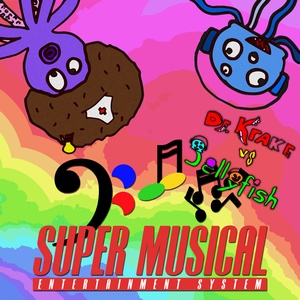 Free download available on Bandcamp: https://drkrakevsjel...sh.bandcamp.com
No fixed genre as mentioned. It's mostly trance-ish, but hard to call. Influences are trance, house, hardstyle, goa and of course video game music (most of the album is remixes). I think I posted "Sonic the Nitzhog" on this forum before, it's a good example of how we mix stuff up.

I hope somebody here will give it a go and enjoy - have fun!